In the photographic series Contemporary Pieces, Rebecca Rütten humorously combines the look of late Renaissance era paintings with modern culture, represented by fast food. The series contains five portraits and five still life compositions.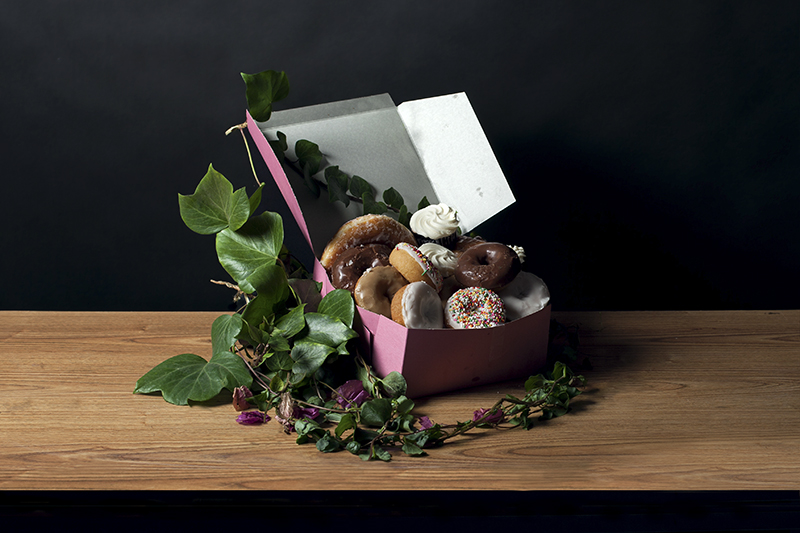 Rütten was interested in the "eroticism, presentation and charisma" of Italian and Dutch Renaissance painters like Caravaggio. Their works frequently showed the lifestyle of the middle and lower classes, such as workers and gypsies. Fast food — and models with visible tattoos and piercings — represent a modern version of these subjects. Fast food is comparatively cheap, but many of her friends avoid it and it loses its value as food, she says.
She had her models re-create poses featured in the old paintings, holding foods including hot dogs, marshmallows, ice cream, and pizza. They are not wearing regular clothes, but are instead draped in sheets and cloths. Although I feel the still life images are important to contribute to the overall mood of the series, the portraits really make it funny. Some of their expressions are priceless.
She also arranged still life tableaus, each collecting multiple items from the same fast food chain, and sometimes including other objects like goblets, sprigs of foliage, or lush fabrics to enhance the medieval character of the scenes. Panda Express, McDonalds, Subway, KFC, and Taco Bell are among those chains featured. I like that Rütten displayed a wide range of cuisines and companies, rather than just dwelling on one or two like some other fast food-themed art I've seen.
The simple dark backdrop used in all the images, combined with dramatic, low-key lighting, enhances the chiaroscuro effect that gives it that period feel.
"Like the old Masters this work is dealing with transience and beauty, but I clearly want to stay away from giving any directions since everybody is allowed to have an own interpretation," Rütten says.