The art of "Fire Painter" Steven Spazuk is beautiful as a finished work, but what I think is even more breathtaking is the unique process he uses to create these pictures; he holds a paper over a flame to gather soot and  engraves detail into the image using various tools.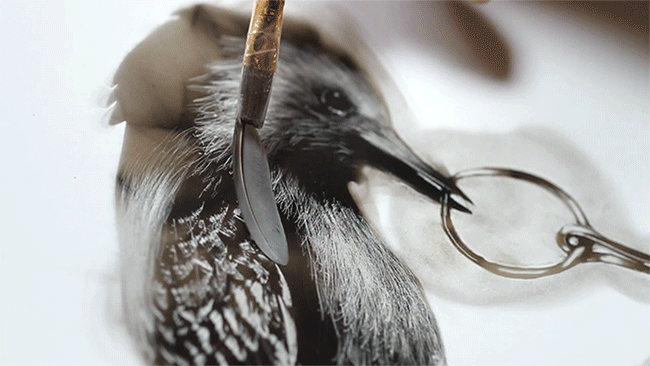 For his series Ornithocides, Spazuk shows birds — both dead and alive — with pesticides and objects used to kill animals, which can have a devastating impact on other, unintended species and the enviroment as a whole. There are grenades, sprayers, fly swatters, and corn (used to suggest that some agricultural practices such as monoculture — growing just a single crop in an area — are problematic). He has also created other bird illustrations and portraits using his fire painting technique.
Spazuk creates the general form of the birds with areas of deep black, then refines the shape and adds detail by wiping away the soot from some areas. For this reverse etching-like process, he uses brushes, metal styli, and feathers. I especially think the idea of using real feathers to create the birds' wings and feathers is brilliant. He later adds wispy, smoke-like touches to the pieces. The images are mostly black-and-white, but there are some places where he uses browns or earth tones.
The idea of using soot as an artistic medium isn't that strange when you think about it (after all, drawing charcoal is created by burning wooden sticks) but Spazuk's technique is fascinating. It's something that is best appreciated by seeing it in action, which you can in the video below.
From the artist's statement accompanying this series:
"Since this industrial revolution, we are quite comfortable with the idea that we can poison insects to seemingly cleanse our homes and protect our crops. We collectively and conveniently avoid thinking about the impacts of these suicidal choices. How can it make sense to lace our food and dwellings with poisons? How dare we impose these deadly choices on all other forms of life?
In a shift of perspective, Spazuk views a live bird is a symbol of freedom and hope. Let this be an inspiration for change."