A hand-written sign outside the Libreria Acqua Alta says "Welcome of the most beautiful bookshop in the world." While it might not be a place for fussier bibliophiles who like their books neatly catalogued and shelved, there's no denying this is one of the most creative and unique book stores in existence.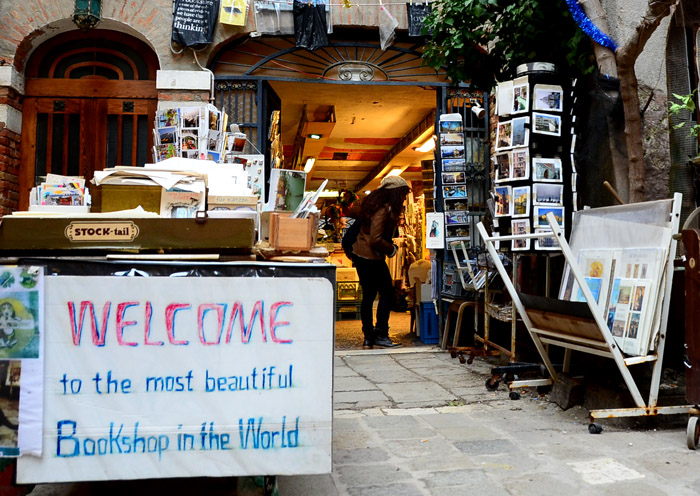 The Libreria Acqua Alta, in Venice, Italy, has stacks of books on every surface. This includes tables, but also some unexpected "furniture" like a gondola, canoes, and old bathtubs. The owner says he tries to use objects which have a connection to water to add to the shop's identity. The motley architecture, some intricate metal window frames, chandeliers, and artwork on the walls also contribute to the shop's charm. It does seem like an alluring and almost enchanted place to explore.
Old books, like outdated encyclopaedias, that wouldn't be saleable have literally become a part of the building, acting as walls and steps. Even though part of me cringes at the idea of using books for decor rather than reading (I have far more books than fit on my own shelves, so I can't imagine people who need to buy books just for display!) I think this is a really creative reuse of those books which truly wouldn't be good for any other purpose.
The name translated literally would be "High Water Bookstore," and in one of the photos here you can see the city's famous canals outside one of the shop's entrances. The store sells both new and used books in many different languages, and has been open for about 10 years. The owner is 72-year-old Luigi Frizzo, who speaks five languages and travelled all over the globe doing a series of odd jobs before becoming a bookseller.