London Kaye's crochet street art brings delightful, if temporary, displays to the fences and subways of New York City.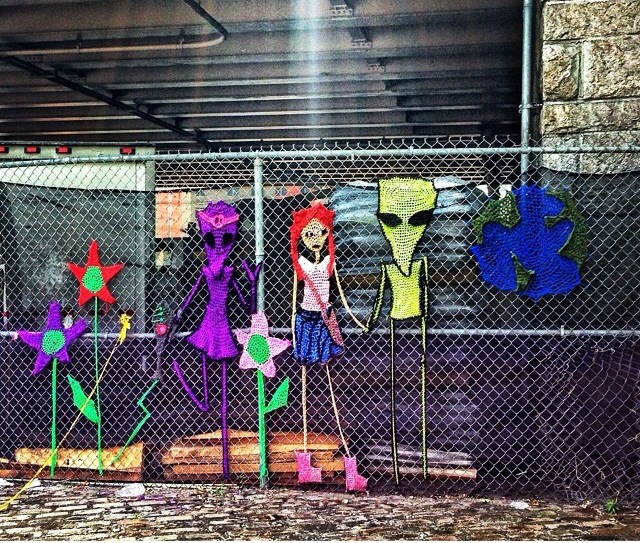 Yarn Bombing is the installation of knit or crochet art works in public spaces. This often involves abstract "cozies" or coverings placed on existing statues, bridges, posts, or other objects.
Unlike many yarn bombing installations, much of London Kaye's work involves figural designs. She has crocheted people, blue whales, peacocks, butterflies, and flags and other symbols. A recurring theme in her work is ballerinas, including a piece she did last year containing all the major characters from The Nutcracker, which stems from her own background as a dancer. She has also done homages to the street artists Invader and Banksy, painter Pablo Picasso, the TV show Breaking Bad, and other pop culture characters. I like the abstract yarn bombs as well, but I think these more illustrative pieces bring something new and especially creative to the art form.
Some of her crochet pieces disappear pretty quickly, even the same day. If she's questioned by the authorities she tells them she is prepared to take them down once she's taken a photo. However, if a piece remains up longer, she often goes back and adds to it later. She has favourite fences and spaces in the Brooklyn neighbourhoods of Williamsburg and Bedstuy where she likes to work, since the pieces there tend to stay up longer — some for several months.
"One of the best parts of being a street artist is knowing that a lot of people will see what you have done," she says on her blog, "The down side is that all of the hard work and time put into everything ultimately is given to the public and left on the street." She likes to hear from the people who do take her work, because she wants to know the pieces are "safe and loved."
I think these crochet works are amazing, and next time I'm in New York I want to go hunting to see some of her pieces in person.
London Kaye has also collaborated with another well-known yarn bomb artist, Olek, and she has worked on promotions for the TV show Fargo for FX and Isaac Mizrahi's line of yarn at Michaels craft stores. Below, you can also see videos of her working on installations on a subway train and in Central Park.